CASH RECEIPT JOURNAL
It is referred to as the main entry book used in an accounting system to keep track of the Sales of items when cash is received, by crediting sales and debiting cash and transactions related to receipts.
After posting Sales Invoice , go to Finance >>> AR>>>CASH RECEIPT JOURNAL

CLICK ON THE "+" BUTTON TO MAKE A NEW ENTRY

SELECT THE CUSTOMER FROM THE SEARCH OPTION IN "RECIEVE FROM" FIELD
ENTER OTHER REQUIRED DETAILS LIKE PAYMENT METHOD, PAYMENT CODE, CHEQUE NO. AS APPLICABLE.

NOW CLICK ON THE DROPDOWN ARROW AND SELECT POST.
AFTER POSTING, A POP UP BOX APPEARS SHOWING THE CREDIT,DEBIT & BALANCE AMOUNT(ALWAYS ZERO), CLICK ON POST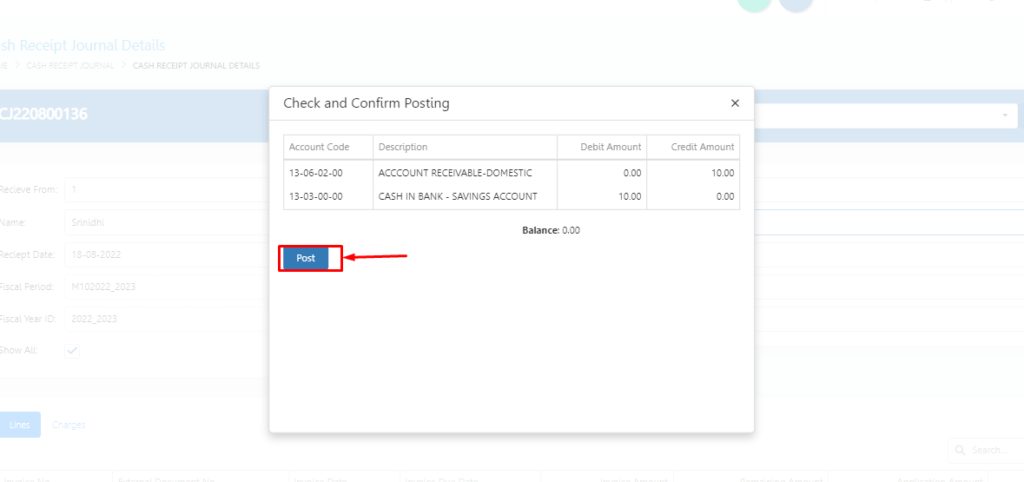 .
YOU CAN SEE THE POSTED DOCUMENT IN POSTED CASH RECEIPT JOURNAL.